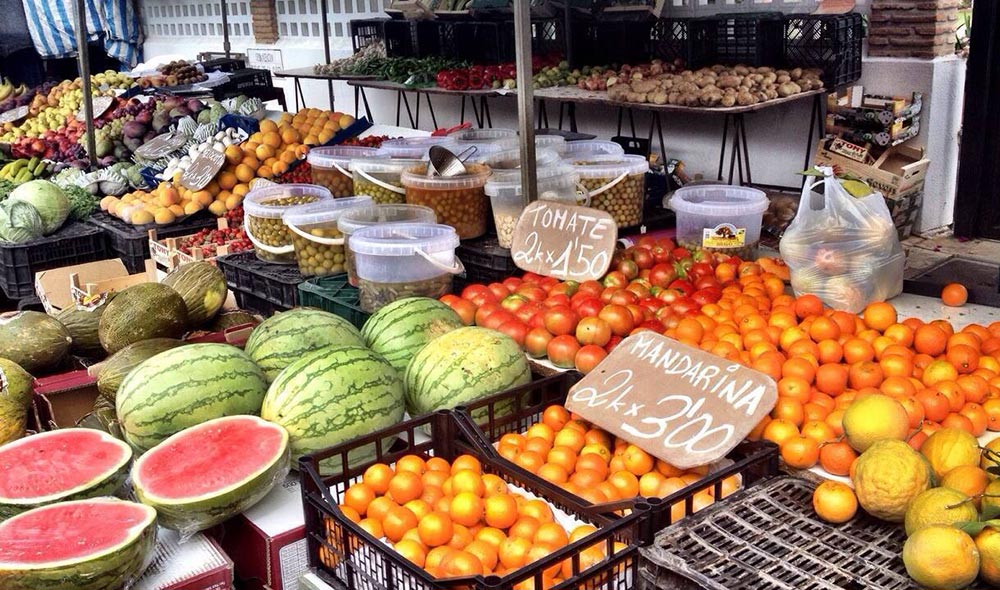 A lot of villages and towns in the Axarquia have weekly markets on a fixed day where bargain hunters can buy the most delicious locally grown fresh fruit & vegetables. At the colorful and lively street market each vendor has a fixed spot. Some villages also have regular flea markets which are usually held in the summer months during the fiestas. We usually go to Caleta de Velez on Saturdays and Torre del Mar on Thursdays. Sometimes we also explore the flea market held in Algarrobo on Saturday or Nerja every Sunday (so called Rastro in Spanish).
Most of the market stalls offer a variety of fresh products including vegetables, fruits, nuts, olives, herbs & spices, flowers & plants, etc. Furthermore you will find craft stalls selling jewelry, pottery, ceramics and many other creative products. Other products you will find are clothes from all over the world, watches, handbags, shoes, luggage, sunglasses, kitchen items, CDs, linens & towels and seasonal products such as blankets and swimwear.
Each week I find it interesting to see which seasonable fruits and vegetables from the Axarquia region are on offer. For example, no strawberries here in October so with every season there is different food on the table and all at a very small cost. Usually you order in quantities of 1 or 2 kilos for 1, 2 or 3 euros which is great for apples, oranges and potatoes but be carefull because you maybe also order 2 kilos of mushrooms what then suddenly turns into a carriage full We think everything looks so fresh and delicious on the market stalls that we end up with a jam packed shopping trolley so we always take a break at one of the many cozy terrace cafes around the market and indulge in a bocadillo con jamon y tomate and a cafe cortado .
It is also a great social day out as you mingle and meet with a lot of people including the market traders who love to chat with you. I look forward to next Saturday!
Best wishes from Marita
Team Second Home Andalusia
Some of the most interesting weekmarkets of the Axarquia:
* Alcaucín -> Saturday

* Algarrobo Costa -> Wednesday, Saturday Flea market Otowa party center
* Almuñacar -> Sunday Flea market
* Benamargosa -> Wednesday
* Benamocarra -> Tuesday
* Caleta de Velez -> Saturday
* Canillas de Aceituno -> Friday
* Comares -> Saturday
* Cómpeta -> Saturday
* Cutar -> Thursday
* Frigiliana -> Thursday
* Iznate -> Sunday
* Maro -> Saturday
* Nerja -> Tuesday and flea market on Sunday
* Periana -> Wednesday
* Puente don Manuel -> Friday
* Rincón de la Victoria -> Wednesday
* Torre del Mar -> Thursday
* Torrox Costa -> Monday
* Vélez-Málaga -> Thursday
Almost all markets are betweeen 9:00 / 10:00 AM untill 2:00 PM.
We daily work with great pleasure on fulfilling the needs of our customers. During the years we have been able to help many people find their dream house here on the Costa del Sol. We are quite proud of this and have asked them to share their experiences with you as who can better explain how Team Second Home Andalusia works than our customers themselves?