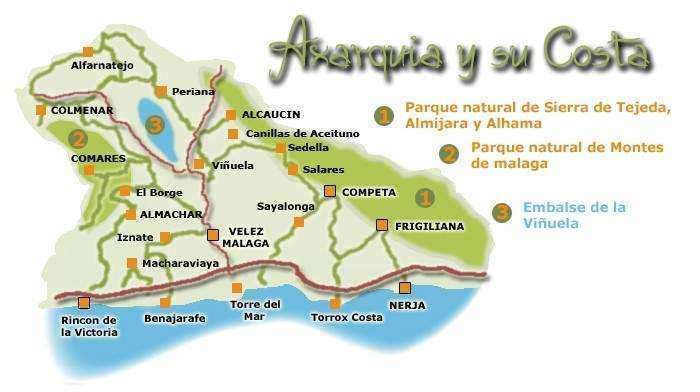 When we were looking for a house in southern Spain, we created a wish list to make the search a little easier. The house had to radiate a Spanish atmosphere, be comfortable to live in during the extremes of the summer and winter and neither of us wanted it to require too much maintenance throughout the year.
Even more important was to find the best location. We do not like mundane environments and high-rise buildings; we were more interested in looking for that typical Spanish feel of white villages, natural surroundings, traditional food, good value locally produced wines and rustic hospitality.
We started our travels in the traditional seaside resort of Nerja which is around an hours drive from Málaga and explored the inland areas of the Axarquia with its mountains white villages and unspoilt countryside. We soon decided our house would be located in this area!
The Axarquia lies in Andalusia between the provinces of Málaga and Granada, just to the east of the city of Málaga. This area has a coastline of 50 km and reaches 35 km inland. Along the coastline you can find vast sandy beaches and coves surrounded by cliffs, beyond there are magnificent mountain ranges and Natural Park,which provide a great climate. The Sierras de Tejeda, Almijara y Alhama are perfect for hiking, mountain biking, climbing etc. What we found so interesting are the Moorish influences and architecture in many towns and villages which create great tourism opportunities.
Most villages are located in the mountains and all have their own story to tell. The village of Frigiliana for example has been repeatedly voted most beautiful village in Spain while the Balcon de Europa, and the caves in Nerja have world acclaim. In many villages there are buildings of interest including the church in El Borge and the ancient minarets in Archez and Salares. Worth seeing are also the villages of Comares (highest village in the Axarquia), Alfarnate, Sedella, Riogordo, Canillas de Aceituno and Competa. The main town and capital is Vélez-Málaga.
To be honest, of the 31 white villages in Axarquia, we have only visited around half of them and we have been around here for 10 years already, so there is still so much to see ;-)
Sunny greetings from Marita, Team Second Home Andalusia
Just for your comfort, these are all the white villages of the Axarquia area in alfabetical order:
Alcaucín, Alfarnate, Alfarnatejo, Algarrobo, Almáchar, Archez, Arenas
Benamargosa, Benamocarra
Canillas de Aceituno, Canillas de Albaida, Colmenar, Comares, Cómpeta, Cútar
El Borge
Frigiliana
Iznate
Macharaviaya, Moclinejo
Nerja
Periana
Rincón de la Victoria, Riogordo
Salares, Sayalonga, Sedella
Torrox, Totalán
Vélez-Málaga and Viñuela
We daily work with great pleasure on fulfilling the needs of our customers. During the years we have been able to help many people find their dream house here on the Costa del Sol. We are quite proud of this and have asked them to share their experiences with you as who can better explain how Team Second Home Andalusia works than our customers themselves?