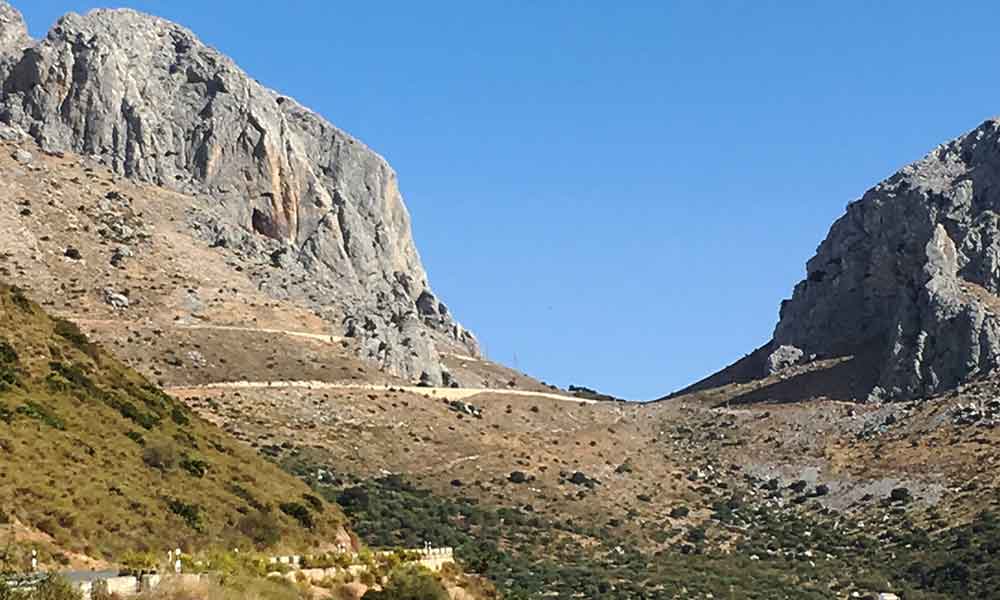 Our journey to Andalusia had a great start with the itinerary written by our friends who live there; after a three hours flight to Malaga and a 50 minutes drive to Canillas de Aceituno you turn left at the 4 km sign on the A356 and follow the dirt track till you reach the house. This route lead us to a wide landscape, quietness, a sunny sky and a warm Spanish welcome by our former neighbors from Huizen together with their two dogs and cat. The tone for a relaxed holiday was set right away. No laser speed limit controls or other rules and regulations, just time to enjoy their wonderful casa with spacious view to the hills, the beautiful Lake of Viñuela and the villages Comares and Benamocarra while sitting under a clear blue sky and nipping at a glass of sparkling cava.
Spending a wonderful time with our friends in their stylish decorated Spanish home combined with numerous new impressions made our five days stay in Andalusia feel like a fortnight's holiday.
From the village of Canillas de Aceituno, where our friends live, it is about one hour ride to the lovely city of Málaga. It was a pleasure to walk through the low-traffic city centre with its cathedral and The Alcazaba fortress built by Arab rulers. And being a boating fanatic a visit to Málaga's harbour was of course obligatory.
On our trip through the countryside the next day in the direction of Granada we came across the lovely village Alhama de Granada situated on the edge of a gorge, it seemed like we entered the Spanish Grand Canyon. We only drove past Granada for we had not been able to book tickets for the Alhambra. A wise advice: if you plan a visit to this world famous fortress you need to make a reservation at least one month in advance. Driving through the lush landscape we never got bored by the endless meandering roads offering stunning views at every turn. At dinner time we were overwhelmed by another view; the bbq with fresh fish like sea bream, sea bass, sole and sardines in front of a beautiful sunset almost looked like a painting.
Saturday morning we went shopping at the market in Caleta de Velez to buy some souvenirs for our two kids who stayed in Holland. Together with the locals and pensioners from various countries we relaxed on a terrace with a cortado. Later on we went to the adjacent village of Torre del Mar to have dinner at Bahia de Tanit,, a trendy club and restaurant on the beach. The next day we took a stroll along the beach and under the clear, sunny sky and with a comfortable temperature of 28 degrees C, we loved every minute of this wonderful life in Spain.
Time went by too fast and before we realized we found ourselves back at Eindhoven Airport in a temperature that had dropped from 28 to 7 degrees! It was our first visit to Andalusia but for sure it won't be our last!
Jacqueline en Martin Seelt, fans of Second Home Andalusia
We daily work with great pleasure on fulfilling the needs of our customers. During the years we have been able to help many people find their dream house here on the Costa del Sol. We are quite proud of this and have asked them to share their experiences with you as who can better explain how Team Second Home Andalusia works than our customers themselves?