Our new home in a nice urbanization in La Viñuela
After travelling around for 2 years with our campervan through the whole of Spain we chose eventually the area of Lake Viñuela as the place we wanted to live after our retirement. For the last 30 years we have lived in the countryside of Friesland, a rather remote part of the Netherlands where we had a big house and garden that meant there was always a lot of work. In our 'new life' we thought it would be better to live around other people and closer to all amenities, not only because is it more secure but also because we are not getting any younger!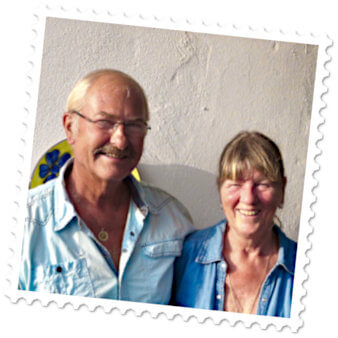 We put our house on the market and started our search with several Real Estate agents for properties with a pool, a little garden and a nice view in an urbanization around La Viñuela, Puente don Manuel, Periana, Alcaucin, etc,. We found out that finding the right house in this way is very difficult, because one agent wants to sell this house and the other one has another he wants to 'push' and so on. So we decided to stop our search for a while because it did not give us the right feeling. However, this spring our house in the Netherlands was sold which meant that now we really had to start looking for our dream house!
I looked at Facebook and found someone from Holland who lived in Canillas de Aceituno. So I called him to ask how it is to live in that area. I spoke to Jan, and after a great chat he said, if you fill in the wish list on our website we can help you with everything with regards to buying a house in this area, from A to Z! I said, is everybody in Spain Real Estate agent??? And I stopped the conversation and hang up. But after I looked him up again on my laptop I saw that Jan, the guy I just had on the phone, was the husband of Marita, the owner of Second Home Andalusia. After visiting their website I understood that working with a property finder, rather than a real estate agent, is a nice solution for a client not wanting to be involved with various agents and their interests, so I filled in their wish list and called them again.
On April 1st 2019 we were back in Southern Spain where we rented a house and directly made an appointment with Marita and Jan. A few days later we visited the first house and found out that the team of Second home Andalusia really looks at everything concerning a property, like the legality of the paperwork, the location of the house, the status of the construction of the house and pool etc etc. A few weeks and some houses later we decided to buy a detached villa in a nice urbanization just outside the white village of La Viñuela.
Only 2,5 weeks later we signed the papers at the notary and received the keys to Casa Kukis, our new home. But the people of Second Home Andalusia do not stop there. We needed a gardener; they gave us his number, we needed an electrician; they gave us his number, we needed to see a Dutch doctor and again; they introduced us and gave us her number! And all this costs nothing extra!
So, working with Second Home Andalusia was and is a great decision!
Gert and Anita Vredenburg