Finca with a nice view on Canillas de Aceituno
For 'security seekers' as we are, it was crucial that Malcolm took us step by step through the whole process. Without him and the team of Second Home Andalusia we had never dared to take this decision.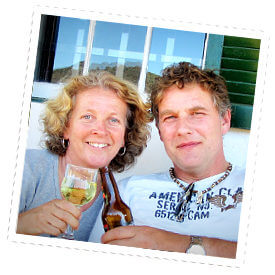 Our wishes were well interpreted and we had three potential homes to visit. We wanted a house in the campo, with a swimming pool and a plot of land that would also give us the feeling of peace and freedom but not too far away from the necessary facilities one might need. House number one we immediately thought was very nice, but the next day when we looked at house number 3, it was immediately clear! 

Casa Flotante, as we named the Finca, is in the countryside outside the village of Canillas de Aceituno. From here in the evening we can see the sparkling lights of the village, which stands just below the natural park and the towering La Maroma. We have a beautiful garden with grape vines, olive and fruit trees and all kinds of flowers. The house is cosy and practical with two bedrooms, a bathroom in between and looks very spacious. The 'outdoor kitchen' was a pleasant surprise, and there are plenty of seats on the spacious terraces where you either can hide or seek for the sun.
We had often seen the tv program 'Places in the Sun' and watched the couples excitement as they viewed their properties but when you actually stand eye-to-eye with your 'dream home' then you really feel the butterflies in your stomach.

 And then you go into the next phase. There are quite a lot of things to consider when buying a house in Spain, and initially we were a little daunted by the prospect. You buy something in another country where different rules apply and checks have to be made regarding the legality of buildings/pool, is there debt or arrears on the property and so on but it all went smoothly and quickly as we were in touch with the right people. Lawyer, notary, insurance, banking, management and maintenance, you name it .... everything was brought to us. A very pleasant experience.
Although our retirement is still far away, we have nevertheless taken the interesting step to buy a home in Spain. We have worked hard to make it 'our finca' and we will enjoy visiting as much as we can. To permanently reside in Spain maybe an option for the future , but for now we have decided to rent and it is great that Second Home Andalusia has advised us on this and organized the cleaning and maintenance required for our rentals.

The team from Second Home Andalusia 'takes care of everything' while we relax, sitting in the Netherlands and looking forward to our next trip to our home in Andalusia.
Sonja Kornet and Renė Floore
Share your wishes with us!
Because we believe in personal attention and tailormade advice we can offer you the best service once we have as much information as possible on the wishes of your dream house. Therefore we ask you to fill in an online wishlist which you can find here below. We will then call you to discuss the selection and advise according to your feedback.
Interested?