Property for Sale
Our goal is to help you find your dream home from all the properties that are for sale in the Axarquia area of Andalusia, in which we specialize. We have no shop window or many houses for sale in our portfolio because we believe in personal attention and tailor-made offers; therefore we normally work on a specific request basis. The houses you see here are 'special' in one way or another: full of character, built or renovated to a high standard, having great views or are set in nice locations. On top of that, they have passed a first legal check. Take a look and let us know how we can help you further.
CASA NIA
3
Beautiful reformend townhouse in Salares
2
Townhouse
Andalusia Calle Alminar 22, Salares, Andalusia
Overview
This beautiful, lovingly restored townhouse sits in a quiet location on the edge of the traditional white village of Salares and is brimming with character including rustic terracotta floors, exposed ceiling beams, wooden windows and doors etc. From the upper roof terrace there are spectacular 360 degree views of the village, the surrounding hills and countryside sweeping up to the stunning backdrop of the Sierra Tejeda mountain range. There is street parking by the property or in the main village car park close by.
DESCRIPTION
The main entrance leads into the recently installed, fully equipped kitchen (3.90 x 2.20m) with all modern appliances and to the left, off the kitchen, a stylish shower room with W.C. (1.75 x 1.30m). A beamed archway takes you into the cozy open plan dining room and lounge area (4.80 x 3.40m) which features a brand new "pellet" stove.
An inner courtyard (4.15 x 2.20m) is accessed through French doors from the lounge, where steps lead up to a shady terrace (4.50 x 2.60m) and down to a guest bedroom (4.50 x 2.35m) that the owner presently uses for storage. From here there is separate access to the street.
From the kitchen a stairway leads up to the first floor and into a study (6.10 x 2.45m) with log burner and a connecting lounge (4.50 x 4.50m) where French doors lead onto a Juliet balcony. There is an option here to create a further bedroom in either one of these rooms.
Two separate staircases lead to the second floor that accommodates two bedrooms (4.55 x 2.70m and 3.85 x 3.40m), one with Juliet balcony. A beautifully designed "Jack and Jill" bathroom connects both bedrooms.
A staircase extends up to a small utility area (1.4m2) and the spacious upper roof terrace (35m2) with sink and worktop facilities. This area is perfect to relax, wine and dine and spend some time to marvel at the views and soak up the village atmosphere.
IN SHORT
This property represents excellent value for someone looking for a traditional townhouse of great character and generous accommodation that has been sympathetically restored and designed to an excellent standard
ASKING PRICE €149,950
THE AREA
Read here more about the great way of living in Andalusia
Energy Class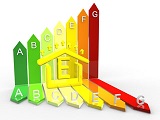 General Features
3
2
/ in village
/ two terraces (inc. huge roof terrace)
/ inner courtyard
/ fantastic 360 degree views
/ electric
/ log burners, electric heaters
/ in main bedrooms
/ can be connected
/ wood, most double glazed
/ traditional terracotta floors plus wooden beams and rustic features
/ beside property or close by
/ 150 m2
/ connected
/ E
/ quiet part of village
/ high quality restoration
/ excellent
Share your wishes with us!
To be able to offer you the best service possible, we would like to know more of the requirements of your dream house. So please fill in the online wish list, and we will call you to discuss your selection and advise accordingly.