Property for Sale
Our goal is to help you find your dream home from all the properties that are for sale in the Axarquia area of Andalusia, in which we specialize. We have no shop window or many houses for sale in our portfolio because we believe in personal attention and tailor-made offers; therefore we normally work on a specific request basis. The houses you see here are 'special' in one way or another: full of character, built or renovated to a high standard, having great views or are set in nice locations. On top of that, they have passed a first legal check. Take a look and let us know how we can help you further.
CASA CHURRISPA
Impressive country villa close to Sedella
Country house
Andalusia Campo of Sedella
Overview
Casa Churrispa has been designed with the Mediterranean lifestyle in mind. The interior is open plan therefore spacious and airy with plenty of natural light. Four separate terraced areas provide the options for sun, shade, alfresco dining or simply to unwind and take in the wonderful views.
A gated driveway leads to a large, gravelled parking area. The property is surrounded by mature plants and trees including lemon, fig, olive and almond as well as palms and bougainvillia. The swimming pool (8 x 4m) is fenced off making it child friendly and is surrounded by terracotta tiled terracing providing plenty of space for sunbathing and relaxing by the pool.
DESCRIPTION INSIDE
Entering the property via a shady covered terrace (4.75m x 2.8m) with a retractable awning leads you into the lounge area (5.1m x 4.5m) with fireplace, fan assisted log burner and ceiling fan. Straight ahead, another door leads out to the rear terrace. From the lounge, a short passageway off to the right takes you to a twin bedroom (3.7m x 3.35m) with fitted wardrobes and storage space, a family bathroom (2.9m x 1.85m) with full size bath and overhead shower and a double bedroom (3.75m x 3.4m) with fitted wardrobes and storage space.
To the left, from the lounge, an archway takes you into the dining area (5.5m x 3.4m), from here there is access through sliding doors to the garden and large swimming pool and terrace area. To the right from the dining area there is a large, fully fitted family kitchen (3.85m x 3.4m) and a handy storage cupboard (2.1m x 0.9m). A staircase leads up to the master double bedroom (4.6m x 3.45m) with air conditioning unit, en-suite shower room (2.10m x 1.60m), storage cupboard (2.1m x 1.6m) and two private terraces (5m x 2.5m and the other 7m2) with breathtaking views of the beautiful surrounding countryside and the majestic Mount Maroma.
DESCRIPTION OUTSIDE
Casa Churrispa is located a 5 minute drive from the white village of Sedella and also the neighboring village of Salare. It is located in a quiet setting surrounded by nature featuring an array of fruit trees and mediterranean shrubs, plants and flowers.
The property is accessed via a private gated driveway off from the well maintained track leading to the large parking area at the side of the house where there is room for several vehicles. Walking round to the front of the property from the parking area, you reach the covered terrace area (4.75m x 2.8m) with a retractable awning where is the main entrance into the property. Continuing on around the property, it opens up onto the fenced off swimming pool (8m x 4m) with a large terracotta tiled terrace and from here one can wonder at the stunning mountain views!
There is a pathway from the swimming pool to the house where you can enter via sliding doors into the dining room area. A water deposito tank located on a ridge above the terrace (approx 5,000 litres ) provides reserve water for the property. Keep walking around the house and just under the kitchen window is a small storage shed housing the water pump, also a small store for pool chemicals etc.
Around the corner towards the back of the property there is another terrace area (4.75 x 2.35m) with a retractable awning. There is worktop here with storage underneath that could very easily be made into an outdoor kitchen. A door from this terrace takes you into the lounge. The handy store room (2.70 x 1.3m) is also located here. Carry on around the store room and this takes you back to the parking area .
IN SHORT
This beautiful villa makes a wonderful family home and also has great holiday rental potential. It is perfectly located, enjoying the peace and tranquility of the countryside whilst only a very short drive takes you to two traditional white villages where all the required amenities are on offer.
ASKING PRICE € 259,000
THE AREA
Read here more about the great way of living in Andalusia
Energy Class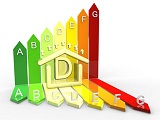 General Features
/ small ruin to be renovated
/ 2 terraces on the ground floor and 2 on the upper floor
/ countryside and mountains
/ fan assisted log burner. elecric panels
/ kitchen, diner and lounge
/ with shutters and fly nets
/ well maintained dirt road
Share your wishes with us!
To be able to offer you the best service possible, we would like to know more of the requirements of your dream house. So please fill in the online wish list, and we will call you to discuss your selection and advise accordingly.