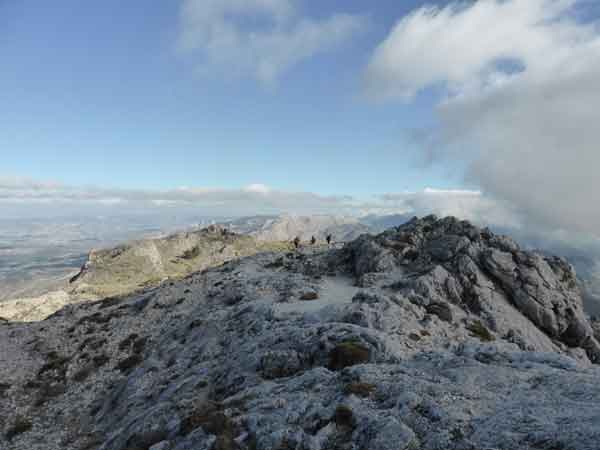 On a sunny and almost windless day we started our ascent from Camping Robledal which is around a very scenic half hour drive from Sedella. A pine forest track leads to the ascent proper. Here we saw the ruts of Wild Boar (Jabali) who are most active around dawn and dusk. They often venture down to raid the village allotments and we often see the evidence of this in Sedella. With Tess 'tracking' the way ahead we ascend a zig-zagging path with fine views of the Barranco Presillejos and as we continue there are increasingly good vistas of the Sierra Nevada and Sierra Huetor to the east. There are a couple of good miradores after about one and half hours of walking which is a good place to take on some much required sustenance and to take a few shots of the impressive scenery.
As we climb we venture through a section of paths known as El Contadero where my friend and trusty guide Vic informs us this is where shepherds could count their flock passing in single file. Eventually we come to ancient Yew trees - Tecos in Spanish - where the Sierra Tejeda takes its name and continue on a very dramatic path towards Puerto los Loberas and onto the skyline. Here you stand at around 1900 m on a crest dividing Granada from Malaga province. From here you can see much of the territory of The Axarquia from Malaga bay to the West to the Almijara range above Nerja to the East.
Pressing on we pass an impressive pinnacle of The Peñon de Velez where the path from Sedella via Cerro Fuerte meets the ridge and it is from here one has wonderful views towards Sedella, our own'pueblo blanco'. After waiting for stragglers within the troop (no names mentioned) we move onwards and upwards through a narrow section above an impressive cliff which leads us on to the summit dome of Maroma. We have less than 2km and about 100 m to climb to the top. The dome of Maroma is quite featureless but the 360 degree panoramic view is breath-taking including the Rif Mountains in Morocco to the south.......time for photos and more sustenance!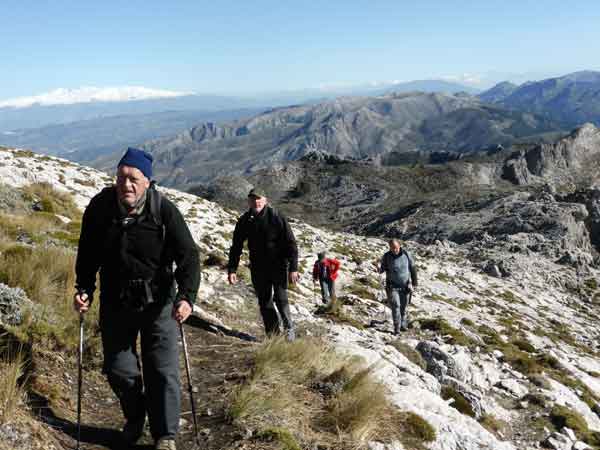 On our descent we briefly encountered the Spanish Ibex (Cabra Montes). We did not spot any raptors on the day but it's quite common to see Bonelli´'s Eagles and Gryphon Vultures soaring on the up-draughts. For the 'flora' enthusiast you pass through several different climate zones so one can see a succession of different plants as you climb. The ascent and descent took us a very leisurely 8 hours and the combination of the beautiful, and at times stunning, scenery along with Vic's knowledge and passion for hiking the Axarquia left us eagerly awaiting our next adventure...........
Un saludo cordial,
Malcolm
Team Second Home Andalusia
We daily work with great pleasure on fulfilling the needs of our customers. During the years we have been able to help many people find their dream house here on the Costa del Sol. We are quite proud of this and have asked them to share their experiences with you as who can better explain how Team Second Home Andalusia works than our customers themselves?