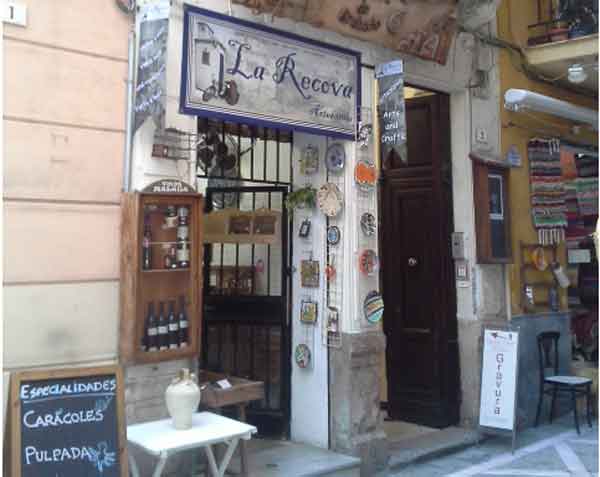 Every so often we love to spend some time in Málaga which is around 1 hours drive from where we live in the mountain village of Sedella. Málaga can often be overlooked by it's more celebrated neighbors Sevilla, Cordoba and Granada but in our opinion it has an equal amount to offer and is our favorite city to immerse ourselves in the history, culture and thriving bar and restaurant scene. There are a great selection of hotels in the city including The Petit Palace, The Larios and a new hotel called Casa Miraflores where we stayed recently. Situated in the Casco Antiguo (historic centre) it is an old town house which has been totally renovated to a very high standard. The rooms are located around a central Andalusian Patio and there is a comfortable lounge area on the top floor. Breakfast is included in the price.
This was a great base for us food lovers. As soon as we stepped out of the hotel onto the street we were surrounded by tapas bars, restaurants and bars where you can eat Málaga's famous pescaito frito (fried fish)!
After having a selection of delicious tapas and a glass of the local moscatel wine, we set off to explore the Casco Antiguo. Whenever we go to Málaga we always discover something new, whether it be tapas bars, interesting shops or museums. This time we found the Hammam Al Andalus which is a luxury thermal baths and steam room where you can enjoy the baths followed by a relaxing massage from around 30 euros. We didn't have the time on this trip but we will definitely make a reservation next time. They have a website where you can view the packages on offer. We also found a small shop selling gourmet olive oil, as well as a couple of great deli's selling the best jamon serrano and manchego cheese. Another great find was a fantastic old curiosity shop called La Recova which serves great tapas as well as selling arts and crafts.
In the evening we took a stroll down to the marina where you can enjoy catamaran trips out into the bay of Malaga. There is a selection of restaurants and shops alongside the very expensive yachts moored on the quayside. There are also wonderful views of the Alcazaba and the Gibralfaro castle. We enjoyed a lovely walk back to the centre through the Paseo del Parque which contains beautiful and exotic trees and shrubs. Back in the Casco Antiguo we ate at two of our favourite tapas bars; Bar Orellana and El Tapeo de Cervantes, these are two very old traditional bars serving a wonderful variety of tapas. To finish the evening we had a nice glass of Rioja at Bar El Gato where we were treated to a Gitano Malagueno a Malaga gypsy, singing real flamenco ........fantastic!
The next morning after a lovely breakfast we took a 10 minute walk to the Mercado de Atarazanas which is an impressive covered food market selling everything from fresh lobster to wild mushrooms picked from the Malaga mountains! We bought some delicious fresh fish and vegetables and then made our way back to Sedella with more great memories of Malaga city! We are already looking forward to our next trip!
Saludados Caroline & Malcolm,
Team Second Home Andalusia
We daily work with great pleasure on fulfilling the needs of our customers. During the years we have been able to help many people find their dream house here on the Costa del Sol. We are quite proud of this and have asked them to share their experiences with you as who can better explain how Team Second Home Andalusia works than our customers themselves?