Málaga under a star spangled sky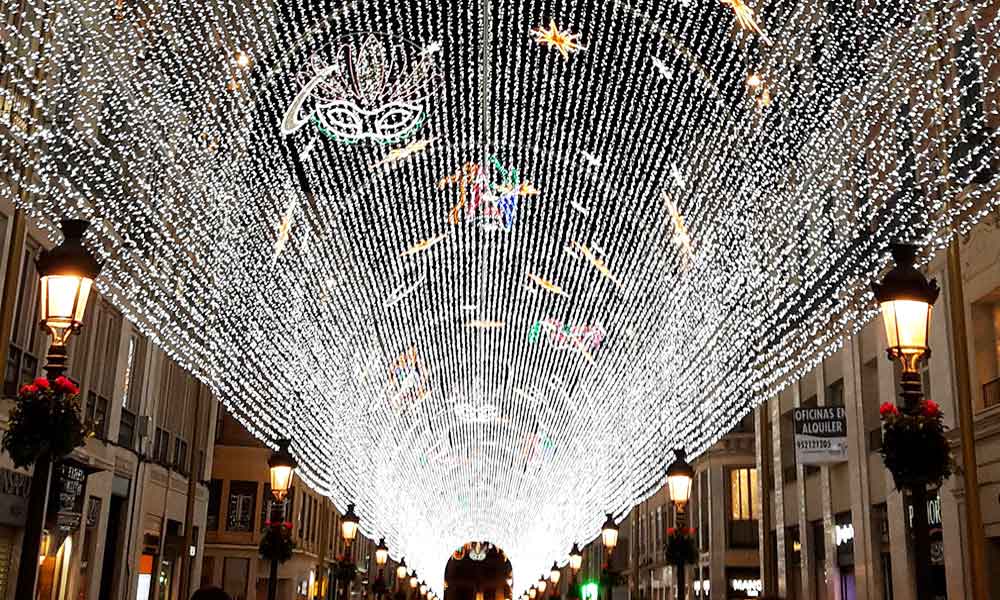 © Jeannette C Bouwer 2016
Although the weather is still wonderful, with 24 degrees on the thermometer, Andalusia is also heading towards winter. Winter means Christmas and therefore the famous Calle Marquéz Larios, the luxurious shopping street in Málaga, is buzzing with vans and electricians who started to work on the installation of the Christmas lights.
Last year many people visited the Calle Larios to gaze at the magical illumination. The fairy-like star spangled sky that covered Málaga's mainstreet consisted of no fewer than 1.646.049 points of lights! The immense light arches cover the street from the entrance up to the Plaza de la Constitución where you can marvel at the huge Christmas tree.
The 'alumbrado', the spectacular ignition of this impressive Christmas decoration is a festive event attended by thousands of visitors waiting with their mobile phones to capture the magic moment when the 'luces of the Larios' will be switched on.
This year the date of illumination was planned on Friday the 25th of November but, due to a march against violence through the city centre organised by Collectivo Cero Violencia on that same day, the Town Hall decided to bring the festivities a day forward to Thursday the 24th of November. This magical night with children's activities, music, street performers and more will start at around 18.30. The decoration is usually lit every night from 18.30 – 02.00 until the 6th of January, so visit Málaga and let the enchanting decoration put a magic spell on you. Enjoy the typical malagueno delicacies and the real Christmas spirit with street artists, the smell of chestnuts being roasted on several street corners, street markets and happy people from all over the world strolling through the marvelous illuminated city centre.
Can you think of a better way to do your Christmas shopping?
See you soon!
Un gran saludo,
Jeannette
Share your wishes with us!
Because we believe in personal attention and tailormade advice we can offer you the best service once we have as much information as possible on the wishes of your dream house. Therefore we ask you to fill in an online wishlist which you can find here below. We will then call you to discuss the selection and advise according to your feedback.
Interested?