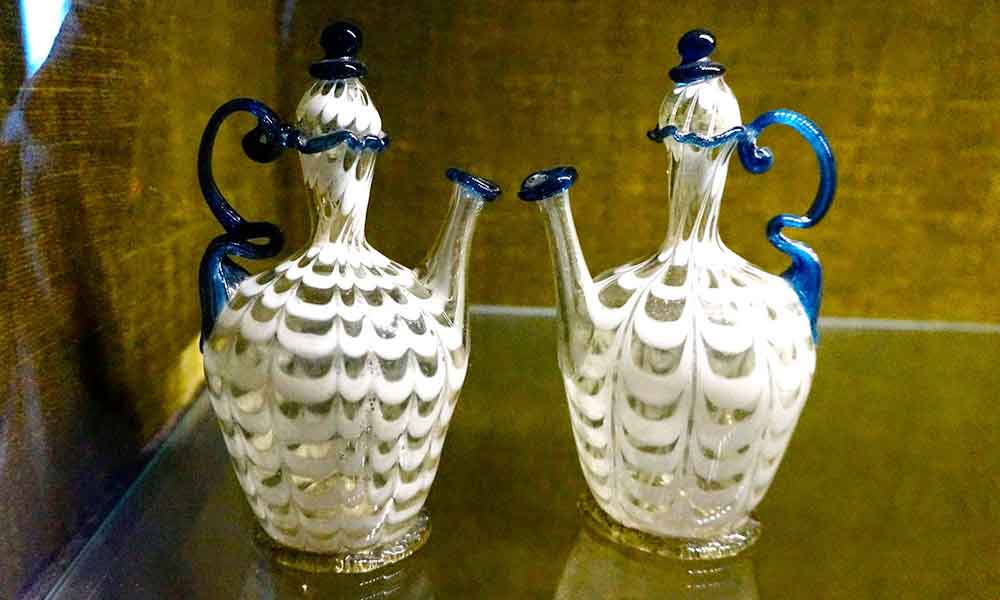 Málaga never ceases to surprise and delight the visitor who has an interest in the arts and culture and the recent 5 new museums which have opened there do not disappoint.
Opened in 2014 the Museum of Glass and Crystal (Museo de Vidrio y Cristal de Málaga) is situated in a charming privately owned palacio and although the museum is a bit off the beaten track it is well worth the effort to find. The collection, contains examples of glass from all over the World and covers a broad historical perspective and includes items of English lead crystal; several pieces by Lalique and some fine pieces from contemporary Scandinavian and Japanese craftspeople. For the most part the glass is exhibited on or in period furniture, including some from the English Arts and Crafts movement. Tours, lasting around an hour, are guided (often by one of the owners) and are available in Spanish and English.
El Museo Revello de Toro is housed in a restored historic house just behind the Cathedral in the centre of the city.
The house was formerly the home of Pedro de Mena the famous 17th century sculptor of religious images. Admission includes an audio tour which is available in English. The museum contains a broad selection of the work of malagueñan artist Félix Revello de Toro whose generous donation of a large number of his privately owned works to the City of Málaga forms the basis of the collection which includes paintings, sketches and drawings.
The dominating theme is that of feminine beauty and I defy any other artist to to be able to capture the transparent quality of silk over flesh in any way that approaches that of Revello de Toro. Undeniably romantic, the pictures capture the femininity and beauty of the women in the artist's life. Temporary exhibitions have included examples of the artist's posters for Málaga Fería and Semana Santa; religious works commissioned by various cofradias to be carried in the Holy Week processions, and; portraits of local politicians.
In a totally different character Jorge Rando, another malagueñan artist with a museum devoted to his work, captures both the beauty and the ugliness of the World in which he works. With themes as diverse as famine in Africa, prostitution, religion, landscapes and flowers. Rando paints in an Expressionist style, developed over many years while he studied and worked in Germany. The museum is housed in a former monasterio about 15 minutes walk from Plaza de la Constitución and entry is free. Although the exhibition changes every 3 months or so the visitor will be able to see examples of Rando's principal themes and if visiting on a Saturday might well be lucky enough to see one of the free concerts presented on a weekly basis.
Easter 2015 saw the opening of 2 new headline attractions for the city. These were the Colección del Museo Ruso, housed in one of the buildings at the former 19th century Royal Tobacco Factory, and a branch of France's Pompidou Centre, in the heart of the city at Muelle Uno. The former, houses works from the Russian national collection in St Petersburg and which follows the development of Russian art from icon painting to the present day and includes works by Marc Chagal and Vasily Kandinsky. There is also to be a programme of temporary exhibitions, the first of which dealt with the times of 'Diaghelev and the Ballet Russe' and which showed several works by costume and set designer Leon Bakst. Centre Pompidou Málaga, which can be found beneath a huge coloured glass cube, is housed in a contemporary space which provides a fine home in which to display an excellent range of works from the Paris collection. Amongst the challenging and thought provoking works on show are pieces by Pablo Picasso, Marc Chagal, Frida Kahlo, Rene Magritte, Alberto Giacometti, Francis Bacon and other leading exponents of contemporary art. This branch of the Pompidou Centre is the first of its kind outside of France and marks a new form of collaboration between the museum's home in Paris and its public. The collection will change every 2 years.
Contact information:
Museo de Vidrio y Cristal de Málaga, Plazuela Santísimo Cristo de La Sangre 2, 29012, Málaga.
website: museovidriocristalmalaga
Museo Revello de Toro, Afligidos 5, 29015, Málaga.
website: museorevellodetoro
Museum Jorge Rando, Calle Cruz del Molinillo 12, 29013, Málaga.
website: museojorgerando
Colección del Museo Ruso, Avenida de Sor Teresa Prat 15, 29003, Málaga.
website: coleccionmuseoruso
Centre Pompidou de Málaga, Paseo de la Farola 4, 29016, Málaga
website: centrepompidou malaga
Un saludo cordial,
Andrew Hood
We daily work with great pleasure on fulfilling the needs of our customers. During the years we have been able to help many people find their dream house here on the Costa del Sol. We are quite proud of this and have asked them to share their experiences with you as who can better explain how Team Second Home Andalusia works than our customers themselves?