Discovering the delights of Jaen Province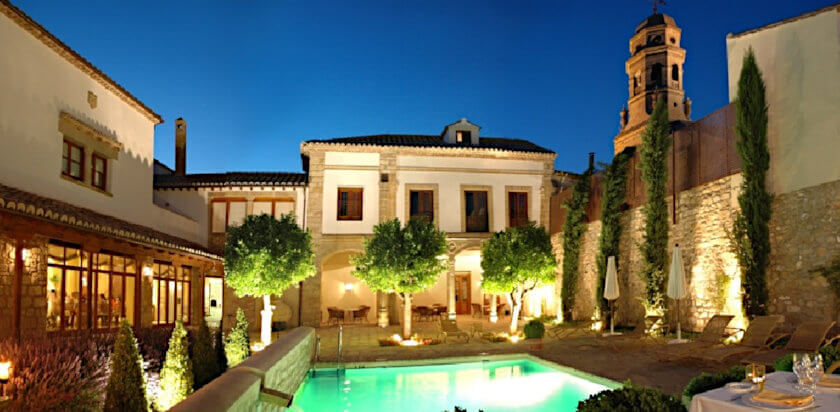 Early this spring we decided to take a road trip to Jaen province to visit two of the most historic cities in Andalusia, Ubeda and Baeza, both declared World Heritage sites by UNESCO in 2003. The drive from Sedella took us just over three hours; there are a couple of other routes but the quickest is on the motorway A-44 via Granada. It's a great drive through the mountains and lakes and you will even have a glimpse of the Sierra Nevada!
We stayed right next door to the cathedral at the 4 star Hotel Puerta de la Luna in Baeza, formally an old palace which was beautiful and very central to the city. We were even upgraded to a suite, as it was off-season! There was an open fire in the hotel lounge for cosy winter evenings, which we found extremely welcome, as the change in temperature was noticeable compared to the sunny warm days we enjoy during the winter living in the South! There is a pretty outdoor area with a pool and alfresco dining for the summer months with a great view of the cathedral bell tower.
We had a day in Baeza to explore and the following day we spent in Ubeda, which is less than 10km away. Both originally Roman settlements, they became two of the most important cities of Moorish Al-Andalus until the 13th century conquest by Fernando III. They benefited from extensive patronage in the early 16th century resulting in the construction of impressive churches, monuments and beautiful palaces in the Renaissance style, which were homes to nobles and aristocrats. The two cities are surrounded by olive groves as far as the eye can see, a spectacular sight indeed! Jaen province has the largest plantations of olive groves in the whole of Spain. The olives are picked by hand and the oil ranks amongst the best in the world!
We thoroughly enjoyed exploring both cities with the Cathedral in Baeza being a must visit, built on a Roman temple which later became a mosque and in the reign of Ferdinand III was converted to Christianity, it has Gothic, Mudejar and Italian renaissance influences. We took the opportunity to climb the bell tower, originally the Minaret of the Moorish Mosque and marvel at the amazing vistas over the olive groves! Also not to be missed are the beautiful palaces and churches of Ubeda in the Plaza De Vazquez de Molina where you will find the most interesting and best examples of Renaissance architecture in the whole of Spain. This is also the location of the Parador, a luxury hotel housed in a 16th century palace, a lovely place to stop off for lunch which in the summer months can be taken in the interior courtyard, or maybe just stop off for a coffee or a glass of wine and take in the history that surrounds you.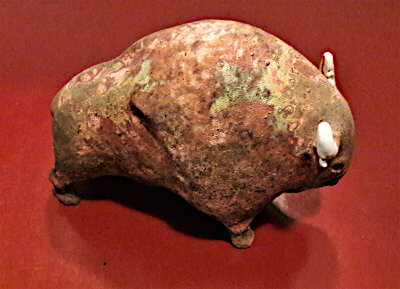 There are many shops selling the top quality local olive oil, some of which is organic, as well as beautiful pottery from the area and we should give a special mention to the pottery workshop and museum, in Plaza Ayuntamiento called Museo Alfareria Tito.It was created by Juan Martinez Vallicanas (Tito) in 1964, set in an ancient Moorish house with an interior patio he still uses an original walk in Arab kiln and produces pottery and sculptures of traditional design as well as using innovating techniques for more modern pieces. We bought one of his original designs, a bison sculpture which is made of terracotta and then fired at a high temperature with copper to give it's unique finish. You will usually see Paco Tito in the shop working on his small potters wheels and he is happy to say Hola!
The gastronomy in both cities is based around game and river fish, including rabbit stew, peppers stuffed with partridge, 'chivo', baby goat, venison, wild boar and fresh water fish, especially wild trout fished from the Guadalquivir river in the Cazorla natural park. Olive oil ice cream is also a local speciality! There is a good variety of eateries from fine dining to cosy tabernas, street cafes and tapas bars. As it was out of season on our visit there were a few places that were closed but we managed to find a great little restaurant in the centre of Baeza where we dined on beef from Asturias, fresh river fish and enjoyed the local Jaen wine!
On our journey home we decided to take a scenic diversion through the sierras of Cazorla, Segura and Las Villas natural park, a stunning area with rugged mountain passes, lakes, rivers and pine forests, this is nature at its best and is the largest protected natural area in Spain at 200 thousand hectares, it was declared a World Biosphere Reserve in the 1980's due to it's immense bio-diversity.
There are many hiking, horse riding and mountain bike opportunities where you will encounter rivers, waterfalls, gorges, valleys and much of the wildlife of the area including mountain goats, wild and fallow deer, vultures and birds of prey, there is also the possibility to arrange fishing and controlled hunting trips. We didn't have time to explore on foot but the drive was fabulous with stunning views around every corner! We passed many hunting lodges and hotels along the way, one of which is a Parador in the middle of the natural park, where you can stay and book trips into the park which include several outdoor activities and to satisfy the adrenaline junkies, canyoning, zip wiring and wild water rafting!
Before leaving for home we decided to check out one of the most dangerous roads in Europe, the JV-7045 in the Sierra de Segura mountain range. As we had our 4x4 vehicle we thought that we would give it a go! The road is 30.5 km long; starting from Santiago de la Espada A-317, after around 14 km we arrived in Don Domingo where the asphalt turns into dirt road. We carried on driving in great anticipation of adventure! We drove past a mountain refuge and an old goat corral where the roads started to become slippery due to the ice and snow. We continued driving up into the mountains in the knowledge that up ahead we had to contend with hairpin bends, blind curves and plummeting temperatures in order to reach the highest elevation at 1.745m above sea level before traversing across the mountain! We carried on with a little trepidation but as we drove higher into the pine forest the mist came down, snow was in the air, the light fading and we were losing our mobile signal so we decided it was time to turn back, we are not that adventurous! This is definitely a drive to take in the summer months as it is a very scenic and exhilarating route, maybe another time …...
We arrived home late that night after a great trip to Jaen province, we have lot's to go back for as we didn't get to visit Cazorla city with it's castle and ruined cathedral or even the City of Jaen with the Assumption of the virgin Roman catholic cathedral, Arab baths (the largest in Spain) and museums. The Parador hotel is housed in a 13th century Moorish fortress with spectacular views over the city of Jaen and the surrounding countryside rivers and mountains, maybe the base for our next trip! And perhaps we will try that drive over the mountain again ..... to be continued !
Saludos a todos y felices aventuras !
Caroline and Malcolm