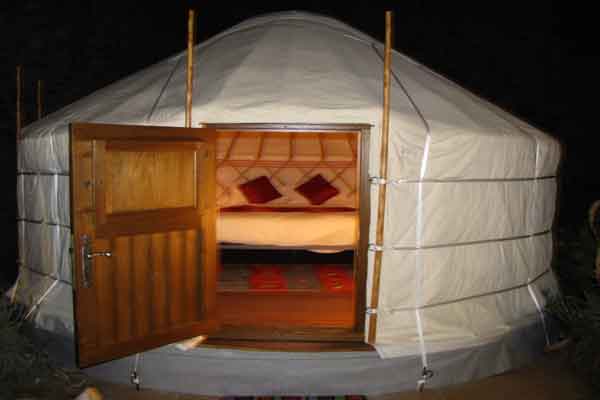 Friends of ours have recently started to rent out their two Yurts. They are tastefully and luxuriously furnished and are perfect for the emerging Glamping trend. We felt very honoured the be "test sleepers" in one of the Yurts amidst the beautiful nature of Algarrobo. A Yurt has for centuries been the home of nomadic Mongolian people. It has a beautiful wooden frame of poles made of chestnut covered with layers of felt made of sheeps wool and canvas so they look very attractive and are super strong. The Yurts of our friends Erna and Rolf are adapted to the Spanish environment by professional Yurt builders Ratna and Rob Mathews from the Alpujarras which means that they are cool in the summer and warm in the winter months .
Staying in a Yurt is a romantic experience and we had perfect weather for our stay. The sky was beautifully lit in the evening which we could see and enjoy from our bed as the roof of the Yurt can be opened revealing the starry sky which felt so close.
After spending a night in a Yurt for the first time we understand the true meaning of "Glamping" (glamorous luxury camping). Each Yurt has its own lit terrace with seats and parasols, a luxury sanitary unit, a fully equipped Spanish cooking tent and a swimming pool. The Yurts can accomodate up to two people.
Both yurts are in a perfect location for interesting day trips to Nerja, Frigiliana, Comares, Competa, Malaga, Seville, the Alpujarras and Granada, lake Vinuela and several beattiful nature reserves such as the Sierra Tejeda .
Interested: go to www.balcondeandaluz.nl
Marita all the way from Andalusia
Team Second Home Andalusia
We daily work with great pleasure on fulfilling the needs of our customers. During the years we have been able to help many people find their dream house here on the Costa del Sol. We are quite proud of this and have asked them to share their experiences with you as who can better explain how Team Second Home Andalusia works than our customers themselves?